South Jersey Man Charged In Sexual...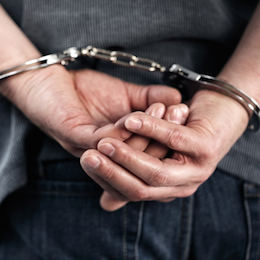 South Jersey Man Charged In Sexual Assault Of 7-Year-Old Girl
BELLMAWR, NJ. (CBS) — Police have arrested and charged a man in the sexual assault of young girl in Atlantic County, New Jersey.
Authorities say 30-year-old James Ward was arrested Friday at his home in Bellmawr after a two-year investigation.
The Atlantic County Prosecutor's Office says Ward, the fiancé of the victim's mother, sexually assaulted the 7-year-old girl at her home in Brigantine while her mother was not there and she was left in his care.
Ward was charged aggravated sexual assault, endangering the welfare of a child and related offenses.
He was being held on $350,000 full cash bail.



Author: http://philadelphia.cbslocal.com/2016/12/31/south-jersey-man-charged-in-sexual-assault-of-7-year-old-girl/


Archives
---
1 Injured In Bus Fire On...
Sports Betting Is Now Live...
Deptford Shoplifting Suspect..
2 Dead Following Small Plane..
Philadelphia Man Arrested..
New Jersey Looking To...
Sinkhole Nearly Swallows...
NJ Gov. Murphy Gives No...
Police Involved Shooting At...
Cherry Hill Mother, Son...
5 New Jersey Beaches Under...
NJ Primary: Menendez, Hugin...
New Jersey Trying To Ban...
Family Loses 2 Pets, Vital...
Medford Police Arrest...
More Articles