Rutgers Opens Nursing & Science Building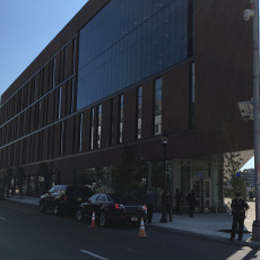 CAMDEN, N.J. (CBS) — Now that the fall term has opened, students at Rutgers University-Camden are settling into a brand new Nursing and Science Building.
The $62.5 million teaching and research facility expands the "eds and meds" corridor in Camden.
"This is the place where the future is being made right now," said Rutgers University-Camden Chancellor Phoebe Haddon.
Haddon says it connects the University District, which includes the Rutgers-Camden campus, with Cooper University Hospital.
"Years from now, we're going to reflect on today as a transformative moment for Rutgers-Camden, with a teaching facility that is second to none," said Haddon
Junior Brooke Trigiani of Morristown, Vice President of the Rutgers-Camden Student Nurses' Association, is grateful not only for the new building, but for her professors.
"The faculty here at Rutgers has truly made an impact on the quality of my education, and developing my character as a nurse," said Trigiani.
Article continues below
---
advertisement


---
More than 1,000 students in undergraduate and graduate programs, ranging from biology, chemistry, nursing and physics will benefit from its computer labs, classrooms, lecture halls and study stations.
Author:
http://philadelphia.cbslocal.com/2017/09/25/rutgers-nursing-science-building/ - Steve Tawa
Archives
---
New Hard Rock Hotel & Casino To Open..
Nissan Retraining Employees After...
Cowtown Rodeo Will Be Entertaining...
New Jersey School Celebrates Autism...
Roadside Strip Search By NJ State...
Police: Browns Mills Man Charged With...
Woman Caught On Video Stealing Wallet...
Easter Sunday Burglar ID'd By Video...
Police Looking For Suspect Accused Of...
New Exhibit Honors First All Female...
Young Students Show Off Their...
Amazon's New South Jersey Fulfillment...
Jersey Shore Towns Assess Beaches...
Rutgers Camden Students Save 90-Year...
Delaware Memorial Bridge Traffic To Be..
More Articles