Mom, Son Arrested For Shoplifting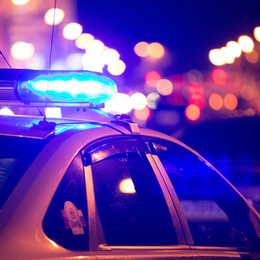 Two people have been charged with shoplifting and other offenses after police say their scheme to distract store employees at a Walmart store in Egg Harbor Township backfired.
Detective Sergeant Mike Finnerty says police got a call early Tuesday morning from employees at the Walmart on Black Horse Pike, who said a shopper told them she couldn't find her 8-year-old granddaughter.
"In our world that's a little interesting at that time of the day, it was just 12:45 a.m.," Finnerty explained. "She says she last sees the juvenile in the jewelry section, which just happens to be at the rear of the store."
Meanwhile, a man the grandmother, 58-year-old Donna Hall, said was a friend who happened to be there was busy up front.
"He took some empty bags and he was filling them with clothing and candy," Finnerty said.
The ruse might've worked, says Finnerty, but the store had been placed on lockdown to search for the girl. And when police arrived, they determined the missing child didn't exist.
Article continues below
---
advertisement


---
The alleged friend turned out to be Donna's son, 30-year-old Nicholas Hall.
He's been charged with shoplifting, drug possession and other offenses. His mother also has been charged with shoplifting, and making a false public alarm.
Author:
http://philadelphia.cbslocal.com/2017/09/27/mom-son-arrested-for-shoplifting-after-plan-to-distract-walmart-employees-backfires/ - Molly Daly
Archives
---
New Hard Rock Hotel & Casino To Open..
Nissan Retraining Employees After...
Cowtown Rodeo Will Be Entertaining...
New Jersey School Celebrates Autism...
Roadside Strip Search By NJ State...
Police: Browns Mills Man Charged With...
Woman Caught On Video Stealing Wallet...
Easter Sunday Burglar ID'd By Video...
Police Looking For Suspect Accused Of...
New Exhibit Honors First All Female...
Young Students Show Off Their...
Amazon's New South Jersey Fulfillment...
Jersey Shore Towns Assess Beaches...
Rutgers Camden Students Save 90-Year...
Delaware Memorial Bridge Traffic To Be..
More Articles