Woman Defeats Man Who Joked About March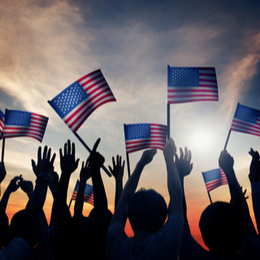 EGG HARBOR TWP, N.J. (CBS) — It was around this time last year, following the election of President Donald Trump, that 32-year-old Ashley Bennett of Egg Harbor Township started getting fired up over politics.
"It makes you angry as a woman," says Bennett, who's a psychiatric emergency screener in the crisis department at Cape Regional Hospital.
The political spark became a roaring flame when she saw a post on the Facebook page of Republican Atlantic County Freeholder John Carman.
He shared a meme which asked if participants in the Women's March on Washington would be home in time to cook dinner.
"To see my own elected official make a mockery of that on social media was just so disheartening," says Bennett.
Bennett says she wrote to Carman, spoke out at freeholder meeting and then went after the ultimate revenge.
She ran for his office and on Tuesday she won.
"If you feel that you are not accurately being represented then you need to have a seat at the table," says Bennett whose story is part of a larger trend.
Article continues below
---
advertisement


---
According to Rutgers Center for American Women in Politics, President Trump's election created a surge in women running for political office.
A record number of New Jersey women won nominations for state legislative office, with most of them trying to unseat incumbents.
Maria's Women United, a political action group which formed this past year, supported 20 South Jersey women seeking office this fall and of them 13 won their elections.
"The climate that has been created in the last 12 months has forced us to take a step in front and be advocates for ourselves and those things that we care about," says chair Amy Swan.
Experts say the increase in women running for office this year is just a sign of things to come.
Next year many more states hold state-wide elections and experts say that programs which train women on how to run for office are packed.
"It was a movement and I'm just one small part of it," says Bennett.
Author:
http://philadelphia.cbslocal.com/2017/11/09/ashley-bennett-beats-john-carman/
Archives
---
New Jersey Voters To Decide Approval For $500 Million In Bonds For Schools
South Jersey Biz Digital Edition
Man Arrested For Peeking Into Windows, Committing Lewd Acts In Women's Clothes
2 Killed, 1 Hurt After Fire Ravages Browns Mills Home
2 Killed In Massive House Fire In Browns Mills
Racist Fliers Supporting KKK Left On Residents' Lawns In Cherry Hill
New Jersey Plans To Reveal 'Stunning' Sports Betting Numbers
Statistics Show Streets Of Camden Getting Safer
Lifeguard At Deadly Beach Predicted A Future Sand Collapse
Police ID Suspect Wanted In Cherry Hill Robberies
Renewed Debate Over Extending New Jersey's Route 55 Into Cape May County
Police Locate Missing 14-Year-Old Girl From Camden
Mantua Township Police Investigate Gunshots Near Elementary School
Husband & Wife Team Caught Shoplifting More Than $8,000 Worth Of Stolen Items In Gloucester Twp.
Tacony–Palmyra Bridge Closed Until Further Notice
More Articles