New Mgmt for Restaurant in Cooper River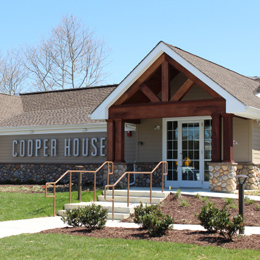 PENNSAUKEN, NJ (CBS) — Changes are coming soon at the restaurant in Cooper River Park in Camden County.
The Cooper House along the river in Pennsauken is closed for renovations. When it reopens, probably early next month, it'll be under new management.
The La Scala Restaurant Group, which operates in Philadelphia and South Jersey, is taking over the lease from the current operator. There's two years left on it. Freeholders approved the switch earlier this month, according to Jeffrey Nash, who serves as liaison to the county parks department.
"The restaurant there is a great amenity," Nash told KYW Newsradio, "and to have a quality restaurateur like a La Scala really adds so much more to the park experience."
The restaurant will feature Italian cuisine and will be rebranded. No word on that yet.
If you have a gift card for the old place, La Scala will honor it. And if you have a holiday party booked there, it's still on.



Author: http://philadelphia.cbslocal.com/2017/11/25/new-management-for-popular-restaurant-in-cooper-river-park/ - David Madden


Archives
---
New Jersey Voters To Decide Approval For $500 Million In Bonds For Schools
South Jersey Biz Digital Edition
Man Arrested For Peeking Into Windows, Committing Lewd Acts In Women's Clothes
2 Killed, 1 Hurt After Fire Ravages Browns Mills Home
2 Killed In Massive House Fire In Browns Mills
Racist Fliers Supporting KKK Left On Residents' Lawns In Cherry Hill
New Jersey Plans To Reveal 'Stunning' Sports Betting Numbers
Statistics Show Streets Of Camden Getting Safer
Lifeguard At Deadly Beach Predicted A Future Sand Collapse
Police ID Suspect Wanted In Cherry Hill Robberies
Renewed Debate Over Extending New Jersey's Route 55 Into Cape May County
Police Locate Missing 14-Year-Old Girl From Camden
Mantua Township Police Investigate Gunshots Near Elementary School
Husband & Wife Team Caught Shoplifting More Than $8,000 Worth Of Stolen Items In Gloucester Twp.
Tacony–Palmyra Bridge Closed Until Further Notice
More Articles