Man Wanted For Throwing Molotov Cocktail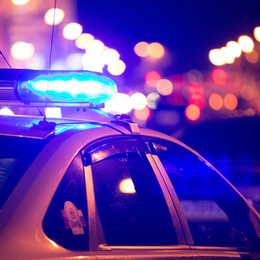 ATLANTIC COUNTY, N.J. (CBS) — Police in Atlantic County are looking for a man who they say threw a molotov cocktail at the Galloway Township Police Department station.
The incident happened 6:30 p.m. Tuesday, when the suspect allegedly went to the lobby of the station, took out a glass bottle containing what police assume is petroleum-based accelerant, attempted to light it and threw at the entrance of the station, police say.
It did not ignite but there were several officers and a citizen present at the time of the incident when the glass shattered and the contents within spilled onto the floor.
No injuries were reported.
Police say the suspect was last seen headed in the area of Jimmie Leads Road.
The suspect is described as a white male, mid to late 20s, 5-foot-7-inches, with a pale and thin face, scruffy brown or ginger facial hair, wearing a brown or tan jacket with a checkered pattern, a gray hooded sweatshirt with the hood up and dark pants.
Anyone having information regarding this incident or able to identify the suspect is asked to call Joseph Picardi at 609-652-3705 (ext. 327).



Author: http://philadelphia.cbslocal.com/2017/12/14/man-wanted-for-throwing-cocktail/


Archives
---
South Jersey Magazine Digital Edition
Man Fatally Shot By Police...
$1,000 Reward Offered In Death of Woman
Police Searching For Missing..
Authorities: Drunken Driver...
Foreign Tick Found In NJ...
1 Person Taken To Hospital...
Murder Charge After Missing...
Hundred Attend Parade, Festival To...
Fake Cops Causing Trouble In At Least...
FBI Raids Methadone Clinic In Camden
Crews Battle House Fire In Gloucester...
Air Force Major Returns Home...
Vets With PTSD Presented Service Dogs...
Woman Arrested Following Hit-And-Run...
More Articles