Bitter Blast Engulfs The Northeast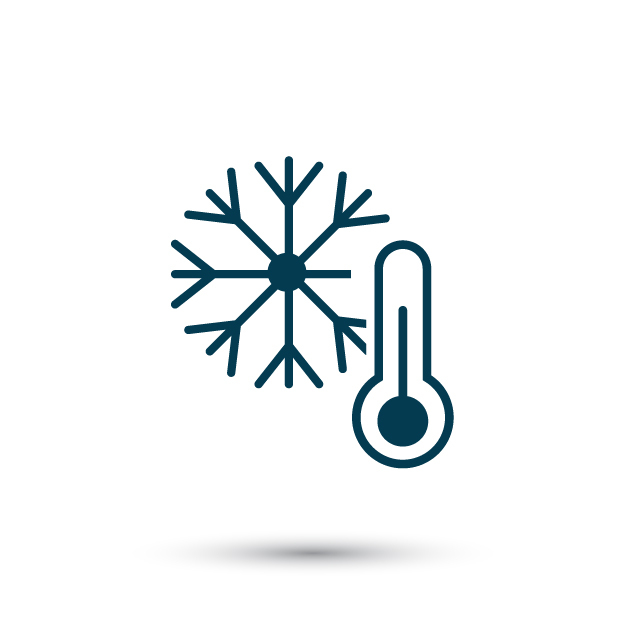 Mother Nature wasted no time in 2018 when it came to nasty weather for the region. A strong Nor'easter tore through parts of the area, mainly coastal New Jersey on Thursday, leaving blizzard reports and incredible snow amounts in its wake. While the heavy snow and blizzard conditions on Thursday were a bear to deal with for many people, the worst may be yet to come as another blast of arctic air moves into the region and the winds remain extremely strong for just about the next 36 hours.
Snow amounts for this system, like many Nor'easters were the hardest conditions to predict and even as the event was ongoing, a few minor changes needed to be made, but in the end, while along the Jersey coast, snow amounts may have out performed expectations, the rest of the region was well within the forecasted amounts.
The Jersey Shore had has much as 17? of snow at the Cape May Court House on Thursday. That turned out to be the highest reported amount in the Tri-State area. Many other parts of the Jersey Shore received close to and over a foot of snow. When you added in the winds yesterday the blowing snow made travel at the shore almost impossible at times. Atlantic City set a record for daily snowfall on Thursday as well.
Article continues below
---
advertisement


---
The snow total on Thursday at the AC Airport was 13.2?, that obliterates the old record of 2.5? set in 1905. Conditions as you moved farther inland improved slightly but still were pretty miserable. The Philadelphia area was in the 3-6? range for this storm and Philly officially received 4.1? of the snow when all was said and done.
Many other areas in the surrounding suburbs hovered in that 3-6? range as well with areas in Lower Bucks County as well as Delaware County getting 4-5? in total. Most of the heavy snow that fell in Delaware on Thursday was in Sussex County or far southern parts of the state, where totals came in just shy of a foot of snow. Now that the snow is done and the clean up begins and many of us will be trying to head back to work the brutal cold is going to settle in and make things feel worse than they already are.
On the back side of the departing Nor'easter we are going to watch as another push of absolutely frigid air settles of the region for the next 48 hours or more and winds that could be gusting at times on Friday and Saturday into the 30-40MPH range.
Due to the fact that winds will be whipping and temperatures are going to remain well below the normal range, Wind Chill Advisories and Warnings have been put in place and will last into Saturday.
The Wind Chill Warning is in effect for the Poconos while the entire rest of the area in under the Wind Chill Advisory. High temperatures on Friday are likely to only be in the teens right around Philly or even lower as you head north.
When you couple in the winds today, wind chill values for the Poconos will potentially be as low as 20-30 below zero in the afternoon. In the Philly metro would be experience wind chills in the 5-10 below range during the day and wind chills should remain below zero all the way down to shore as well. These extreme wind chills and cold temperatures will not let up on Saturday either and could even be worse on Saturday in a couple areas, especially north of Philly back into the Poconos. High temperatures on Saturday will once more stay in the teens or single digits in many spots. We will also flirt with record lows on Saturday and Sunday morning in the city of Philadelphia, as lows dip down into the mid-single digits. the record low for both Saturday and Sunday morning is 4°.
This extreme cold spell is one of the longest we have seen in Philly in over 35 years, so make sure you are taking all the necessary precautions and staying warm as best as you. Make sure to stay with the Eyewitness Weather Team for all your weather updates.
Author:
http://philadelphia.cbslocal.com/2018/01/05/bitter-blast-engulfs-the-northeast/
Archives
---
South Jersey Biz Digital Edition
Man Arrested For Peeking Into Windows, Committing Lewd Acts In Women's Clothes
2 Killed, 1 Hurt After Fire Ravages Browns Mills Home
2 Killed In Massive House Fire In Browns Mills
Racist Fliers Supporting KKK Left On Residents' Lawns In Cherry Hill
New Jersey Plans To Reveal 'Stunning' Sports Betting Numbers
Statistics Show Streets Of Camden Getting Safer
Lifeguard At Deadly Beach Predicted A Future Sand Collapse
Police ID Suspect Wanted In Cherry Hill Robberies
Renewed Debate Over Extending New Jersey's Route 55 Into Cape May County
Police Locate Missing 14-Year-Old Girl From Camden
Mantua Township Police Investigate Gunshots Near Elementary School
Husband & Wife Team Caught Shoplifting More Than $8,000 Worth Of Stolen Items In Gloucester Twp.
Tacony–Palmyra Bridge Closed Until Further Notice
Mullica Township Police Still Searching For Alligator On The Loose
More Articles