CamCo Cops Get Civil Rights Lesson In...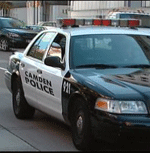 CamCo Cops Get Civil Rights Lesson In Philadelphia
PHILADELPHIA (CBS) – Members of the Camden County Police Department have been taking time to visit the National Constitution Center in Philadelphia this week.
It's more than just a quick trip across the Ben Franklin Bridge. Officers were taken on a tour of the facility and got a chance to sit down with a group of young people.
The idea here is to make sure officers appreciate community concerns and distrust of men and women in blue.
"For us to build bridges within those communities and open up the lines of communication and enhance our levels of trust, we need to have a true understanding of our role in history and its relationship with the Constitution," Camden County Police Chief Scott Thomson tells KYW Newsradio.
Remember, these officers took an oath to uphold the Constitution.
Kerry Sautner, education director at the NCC, organized the sessions.
"One of the things that we really want to have an open dialogue and a conversation about is the establishment of justice and fairness in our society, " she said. "What does that mean to people today and what did that mean to the Founding Fathers when they were setting up the Bill of Rights?"
Article continues below
---
advertisement


---
Officers in Philadelphia and Newport News, Virginia have also taken part in the program.
Author:
http://philadelphia.cbslocal.com/2015/12/03/camco-cops-get-civil-rights-lesson-in-philadelphia/ --David Madden
Archives
---
Explosions Rock Ambulance Company In...
Taking Strides For Autism
Firefighter Injured Battling Blaze In...
Gov. Murphy Holds Roundtable With...
Jersey Shore Police Bust Couple Behind..
Multiple Drug Overdoses Prompt Heroin...
South Jersey Eagles Fans Get Engaged...
Philly Bars Stock Up After Bud Light...
New Jersey Beekeepers Say Proposed...
The Championship Birds Return To Home...
UFC Coming Back To Atlantic City
Eagles Fan Reminded Super Bowl Hasn't...
Eagles RB Corey Clement's Dreams Began..
13-Year-Old Eagles Fan Who Survived...
Balancing Act
More Articles