Rowan Cuts Ribbon On New Development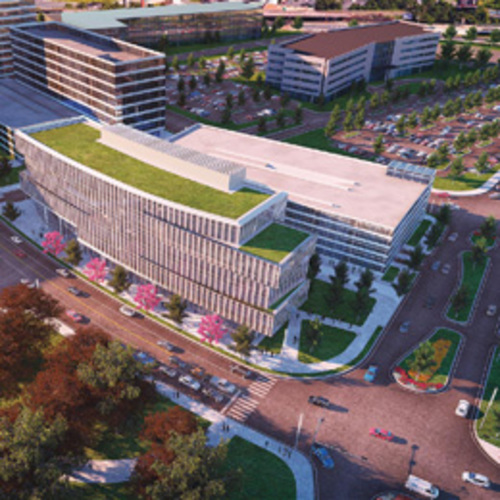 GLASSBORO, NJ. (CBS) — Rowan University has gone upscale and downtown. A ribbon-cutting ceremony was held Wednesday in the Glassboro Town Square, which is part of a $400 million public-private development initiative.
The four buildings under construction include two higher-end student apartment buildings, with classroom space, a luxury non-student apartment overlooking the town square, a parking structure, with ground-floor retail.
Glassboro Borough Administrator Joe Brigandi says it's part of the vision behind Rowan Boulevard, the locals already dubbed it RoBo.
"What's good for Rowan is good for Glassboro, and vice versa," Brigandi said. "We don't always agree, but we do agree that the nicer we make this downtown, the nicer it makes the university."
Seventy percent of the marketrate units are pre-leased. Ground floor retail includes Chickie's & Pete's, Tony Luke's, an authentic Mexican restaurant and brew pub concepts.
This phase nearly doubles the size of the downtown-style footprint, to-date. It's what the town-gown folks call an inter-generational town center that serves as a centerpiece for both the Glassboro community and Rowan University.
Article continues below
---
advertisement


---
Under Rowan President Dr. Ali Houshmand's watch during the last ten-years, enrollment has doubled to 18,000 students, its operating budget has tripled, and research has increased six-fold.
Author:
http://philadelphia.cbslocal.com/2017/08/23/rowan-university-goes-upscale-and-downtown/ - Steve Tawa
Archives
---
Crews Mobilizing In Camden...
4 Women Wanted After...
26 Students Taken To Hospital
Man Follows Woman Into..
Firefighters Investigating If
Neighbors In Shock Over...
Body Of Missing 12-Year-Old...
One Injured In Boat Fire...
Massive Pollen Cloud Gets Sent...
Woman Attacked, Robbed...
Firefighters Rescue 2 Women...
Early Morning Fire In...
South Jersey Father...
2 Injured After Police...
Suspect Wanted For...
More Articles