Blooming and Growing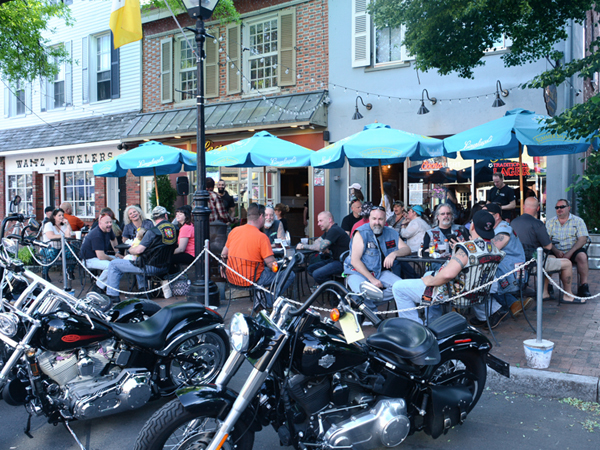 Today, Burlington County is ripe with opportunity as the county—the largest in the state covering 827 square miles—is proving business and quality of life are both possible in one place.

To date, the county is seeing a thriving economy as industries including finance, insurance, social assistance, retail, professional, scientific and technical services are among the county's top and lucrative sectors. Moreover, hospitality and food services are also seeing a rise as it continues to supply services to local businesses and professionals visiting the area.

"Health care continues to be the top employer in the county," notes Tony Mahon, chair of the Burlington County Workforce Investment Board and managing director for AssuredPartners in Mount Laurel. "I see this sector continuing to grow as medical advances supported by technical advancements provide an extraordinary level of health care and quality of life for the residents of Burlington County."

A Thriving Economy
To start, Burlington County is now home to a myriad of brand name warehouses including Burlington Coat Factory, Camuto Group, Destination Maternity, Grainger, H&M, Sun Basket and Quality Packaging Specialists International—not to mention Amazon's new 1 million-square-foot distribution center. It broke ground at the former U.S. Pipe & Foundry site, located between Burlington Township and Burlington City, and will create 600 full-time jobs in the area.

Article continues below

---
advertisement

---


"Burlington County is in a great location because you can access the Pennsylvania or New Jersey turnpikes … so it's a highly desirable location," says NAI Mertz Vice President Roy Kardon, SIOR. "It's also where there is still ground to develop. Much of [North] Jersey is prohibitively expensive and there's not a lot of ground out there to develop, but we have that in Burlington County."

As a result of the county's big leases, it spurs the population of small businesses, which cater to the needs of the bigger companies. "When large companies come in, you're going to get other smaller companies that go to serve them like your plumber, electrician [or] supplier of industrial products," explains Kardon. "It's always a multiplier effect. … Generally, small business seems to be thriving right now, which is always a good sign."

That growth can be seen along the county's corridors from Maple Shade to Southampton along Route 38, Marlton to Maple Shade on Route 73 and Marlton along Route 70, which are all seeing a boom in development as an influx of mixed-use, housing and more are popping up.

Within the downtown communities and their respective mains streets, wineries, microbreweries and pubs from Mount Holly to Medford and Bordentown to Burlington, are also playing a part in the county's growth spurt. "[They're] really helping revitalize downtown," explains Kate Gibbs, Burlington County freeholder director. "When these businesses come into these old downtowns, it really helps bring people who want to come eat and drink, and they can also patronize the other businesses along that downtown corridor."

This growth reflects the county's economic health, which according to Gibbs, is on the upswing, while unemployment and poverty rates are decreasing. "We're a cost competitive county," Gibbs notes. "Burlington County has the lowest comparable tax burden in the region. … By being cost competitive, we can help attract businesses here. We try to use regional planning strategies to help [fill] these corridors, areas and infrastructure, and of course, develop our workforce. We're seeing it's paying off."

A Trained Workforce
When it comes to developing a strong workforce, Burlington County's partnership with Rowan College at Burlington County (RCBC) is a prime example of what happens when affordable education and specialized workforce training work together.

"Not only do you get a four-year degree from RCBC for under $30,000 total, we also offer specialized credentialing and work- force training through the college," adds Gibbs. "That means … you're going to have a well-prepared workforce right here in Burlington County."

Moreover, Burlington County is also home to the Joint Base McGuire-Dix-Lakehurst (MDL), which makes up 1-2 percent of the total New Jersey economy. It remains the second-largest employer in New Jersey with a $3 billion budget and an estimated $7-8 billion impact on the local Burlington County economy and surrounding communities, according to Wayne Hileman, president of Burlington Automotive Group.

"The Joint Base provides both military and local civilian jobs. In addition to frequent job fairs, retirement and career planning personal representatives, the base offers some of the best support and training for people transitioning out of the military into civilian jobs including classes on how to interview and dress for success," says Hileman. "This educational support helps keep transitioning military members and their families in the area thereby helping keep the local economy stable.

"The Joint Base MDL is the only tri- service base in the world and supports and houses the Air Force, Army, Navy, Marine Corps and Coast Guard personnel," he adds. "The base has been selected to host the new KC-46 Pegasus, a global re-fueling and multi-use aircraft. Supporting and servicing this aircraft will create a need for modifications to the base hangars and modifications to some of the existing runways thus providing an infusion of dollars, creating new jobs and a boost to the Burlington County economy."

Booming Town Centers
With approximately 55,000 people living and working near the base, Mount Holly stands as one example of a town that is currently seeing a significant amount of growth— whether it be in businesses or foot traffic— and rising to meet the need.

"Mount Holly has an ideal location as the county seat," says Mayor Jason W. Jones. "With access to major highway arteries, the county facilities and the proximity to the Joint Base, the town draws from all walks of life. The town has also made major investments into its infrastructure in the Central Business District as the council believes the public/private partnership is an investment that will further create an inviting atmosphere for people to shop, eat and live."

With businesses including Downtown Pizza and Spellbound Brewing recently expanding, while Village Idiot and Train Wreck Distillery are outgrowing their current spaces, Jones hopes Mount Holly will continue to be a place for small businesses and entrepreneurs. "We are proud to have the first brewery and first distillery in the county and we continue to look for businesses that will be the first. The town hopes that aggressive entrepreneurs continue to look at Mount Holly as being a town for opportunity."
Neighboring towns that are also making progress include town centers like Moorestown, Cinnaminson, Mount Laurel and Burlington City. While the city of Burlington and the span of the Route 130 corridor experienced a difficult downturn in the past, it has been reinventing itself since 2000.

"New light industry and warehouses have moved into the region as a result of low real estate prices and proximity to major cities in the Northeast as well as bridges, turnpikes and the Delaware River," explains John Alexander, the city of Burlington's director of public affairs. "Also, the down- towns that once served factories and retail customers throughout the 20th century now have become scenic, historical destinations for restaurants and tourism, antiques and art, entertainment and recreation and boutique businesses and offices."

With continued growth, Alexander states the city is looking forward as it continues to attract businesses and jobs, create additional residential and commercial spaces, while also keeping quality of life at the forefront.

"The city is looking at quality of life," he adds. "Such as senior and youth programs to promote wholesome activities; cultural, historical and civic education and tours to promote city pride; and crime prevention, including a network of police cameras, anti-gang/bullying education and richer communication systems to reinforce a sense of well-being for residents of all ages."

A Growing Agritourism
Aside from the county's industrial health, its agriculture is also seeing growth, which is thanks to the county preserving open space and its Farmland Preservation Program. "We've been committed to our agriculture history and roots, but also helping our local agriculture," says Gibbs. "It's a major part of our local economy and we're going to support them in every way that we can." As trends and tastes continue to change, farms in the area are rising to the occasion as residents seek to "buy local" at farmers markets.

"We've been doing our farmers markets for a long time now, but every single year, it gets bigger and bigger at our county Agricultural Center and more of our local farmers are able to participate," Gibbs says, adding, "They're also moving toward agricultural tourism." Farms including Haines Berry Farm in Pemberton and Johnson's Corner Farm in Medford have embraced agritourism, as they move beyond the farm and offer retail and other local products.

A Promising Future
While Burlington County continues to experience substantial growth in both its industry and agriculture, it is dedicated to keeping up the momentum. Recently, Gibbs launched a county-wide initiative to promote the County Small Business Loan Program, which offers direct loans between $50,000 to $200,000 in gap financing with a participating bank to established businesses, start-ups and nonprofits with low interest financing.

"We have a lot of ways that we can help small businesses who don't have a large recourse [and] don't know how to go after the incentives that are available—not only at the county level, but at the state and federal levels as well," says Gibbs. "In the past few years, we have been able to create or retain more than 195 jobs in Burlington County just through our Small Business Loan Program."

The county is also focused on making sure its infrastructure keeps up with new development, which can increase traffic. "The free- holder board is very committed to investing into our infrastructure to make sure that we can handle this growth without impacting [our residents'] quality of life," says Gibbs. "If they're in an area where right now there is a lot of traffic congestion, we're working on it."

To date, Burlington County continues to offer recreational parks, farm fairs, seasonal dining and a vibrant arts and cultural scene, while staying true to its historical roots. "It is safe to say that you don't have to travel outside of Burlington County to find exciting family or nighttime entertainment," notes Mahon.

"We want Burlington County to be a place that you can come here, open a business, raise your family and afford to retire here," adds Gibbs, who credits the county's multi-pronged approach: workforce development, an economic development office providing services to local small businesses and a strong record of fiscal responsibility. "It really gives us that competitive advantage in a region that is blooming and growing."

What Businesses are Saying
NATION ONE MORTGAGE CORPORATION
Joseph Lang, President
"In one word—location. We are conveniently located at the heart of New Jersey. Whether traveling to Philadelphia, the Jersey Shore, North Jersey or South Jersey, we're in the middle of it all. We just had record-setting months with helping new families become homeowners [and] the economy is strengthening with added job security. This allows home ownership to become more affordable for the foreseeable future."
PRIMEPOINT LLC
Victor Scire, Vice President Marketing
"At Primepoint, we're very positive about New Jersey in general. We're doing what we can to support the state because, even though we have grown beyond the borders of New Jersey, our roots remain firmly planted in Westampton, Burlington County. We support many N.J. business and industry organizations, we process payroll for 20 per- cent of N.J.'s municipalities as well as several counties and we both serve and support many N.J. nonprofit organizations."

OCCUPATIONAL TRAINING CENTER OF BURLINGTON COUNTY
Lauren Goldner, Outreach Coordinator
"It's nice to see more opportunities springing up in Burlington County. All the retail businesses that are opening create jobs and resources for members of the community, which shows promise for our consumers that use the [Occupational Training Center] pro- grams as a stepping stone into the traditional workforce. The growth is good for us as well— the more businesses that come to the area, the more potential partners we have."

LIBERTY LAKE DAY CAMP
Andy Pritikin, Owner/Operator
"Things were so good for us prior to the recession. Like most businesses, we aspire to get back to those numbers at some point soon, as we built our infrastructure and business models with them in mind and are creeping slowly back."

WHITESELL CONSTRUCTION CO., INC.
James Whitesell, Executive Vice President of Leasing
"It's exciting to see increased investment coming from a variety of different interests [in Burlington County]; whether it be health care, education, consumer retail orhospitality to name a few."


Published (and copyrighted) in South Jersey Biz, Volume 8, Issue 6 (June 2018).

For more info on South Jersey Biz, click here.
To subscribe to South Jersey Biz, click here.
To advertise in South Jersey Biz, click here.
Author:
Josephine Cusumano
Archives
---
Moorestown Friends Jack Stern Enjoying a Big Senior Season
Eagles Showed Heart in Season-Ending Loss in New Orleans
Colonial Liberty Girls' Basketball Race is Something to Watch
South Jersey Happy Hour Guide
2018 Year in Review
Seagull Classic Showed South Jersey Basketball at its Best
On the Market
Eagles Capable of Pulling Yet Another Upset
Shawnee Girls Basketball Looking to Build Off Big Win
Visions of a World-Class Region
Cooking with Love
Salem's Jonathan Taylor Continues to Dominate College Football
Innovations in Health Care
Eagles are a Team Nobody Should Want to Face
Haddonfield, Despite Key Injury, is Off to a Fast Start
More...