Tropicana Parking Garage Collapse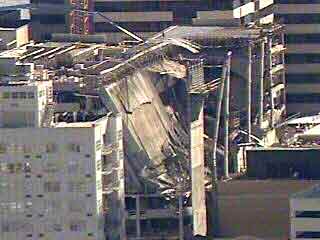 Atlantic City mayor Lorenzo Langford says the damaged Tropicana parking garage could collapse "at any second." An elite team of rescuers is still going into the building to save three trapped construction workers.
New Jersey Gov. Jim McGreevey says the workers are trapped inside the collapsed parking garage at Atlantic City's Tropicana Hotel and Casino.
McGreevey said rescue dogs picked up a human scent in the rubble and that rescue workers that had worked on the World Trade Center were going into the wreckage "against great odds."
McGreevey also said that there is a "real potential" that another collapse could happen at the garage. He said a concrete platform was beginning to bow.
Nonrescue personnel have been moved back two blocks from the scene because of concerns about another collapse.
Officials confirm that one person is dead and 12 people are missing after the parking garage collapsed Thursday morning. Rescuers were at the scene with dogs and cameras trying to find the missing people for several hours.
Article continues below
---
advertisement


---
At least 16 people were taken to local hospitals. Two people were taken to Atlantic City Medical Center, Mainland Division, while Atlantic City Medical Center, City Division, received 14 patients.
At least 10 people were trauma patients, hospital officials told NBC 10.
A construction worker, Harold Simmons, told NBC 10's Vince DeMentri that several hundred workers were inside the building when the collapse happened.
"All of a sudden we heard a large rumble. . . . Then all of a sudden you could hear, like, an earthquake," Simmons said
"The whole building was shaking," Simmons said "Everything was like a domino effect, where it started coming down. . . . So then I started calling out for people to see if anybody was under the rubble, and I didn't get any response."
Stacy Strasky, a casino patron, told DeMentri that she heard popping and cracking sounds Wednesday night and reported her concerns to casino authorities.
"You could definitely hear a popping and waling sound," Strasky said. "This reminds me of 9/11. I'm just frustrated (that casino personnel) weren't taking me seriously."
Witnesses told NBC 10 the parking garage under construction collapsed Thursday morning as workers were pouring cement at the top of the 10-story building.
Rescuers at the Tropicana Hotel and Casino were using search dogs and robotic cameras to search for dead or injured workers in the rubble, Robert Levy, director of Emergency Management for the city, said.
Officials also told NBC 10 that there was a concern that part of the building could still collapse.
Construction workers at the Tropicana Hotel and Casino said that cement masons and other specialists were working on the building when a rumble went through the construction scene at about 10:30 a.m. ET.
Moments later, the top five floors of the garage caved in, trapping workers. Workers used their own construction equipment to free fellow workers as rescue personnel rushed to the scene.
"We are planning for the worst. It's one of the worst collapses Atlantic City has ever seen," Levy said.
The 2,400 space, 10-story parking garage on Brighton Avenue between Atlantic and Pacific avenues supports on one side an 18-story hotel tower.
Both are still under construction. The part of the parking garage at the end of the site opposite the tower collapsed, leaving five layers of concrete and steel sloping downward at a steep angle.
"I heard all those floors go. The whole tower shook, like it was a miniature earthquake," said Jim McNeill, 56, a caulker who was working on the building when it collapsed at about 10:40 a.m.
McNeill said he looked down from the tower and saw five men laying on the ground. Only one was moving.
"It's a real good possibility that we lost a couple of guys today," McNeill said.
Allyn Seel, deputy director of Emergency Management for Atlantic City, said he was directing the set-up of a triage area to evaluate injured workers. He said there were hundreds of workers on site and they were being ordered away from the accident.
Maureen Siman, a spokeswoman for the casino, said she didn't know the extent of the injuries.
"They're doing a head count now," she said.
Construction workers gathered on the street nearby to gaze up at the collapsed frame of the structure.
Alfonso Hernandez, 39, a construction foreman, said he had just walked around the corner to a hardware store and heard the noise. He said all eight members of his crew were accounted for.
"It was like a freight train coming through," Hernandez said. "It's scary. We don't if we lost any of our brothers in there."
Copyright 2003 by NBC 10. All rights reserved. This material may not be published, broadcast, rewritten or redistributed.
Author:
NBC10
Archives
---
Top Towns 2018
Twenty Under 40
Diamond Classic Thrown a Curve by the Weather
South Jersey Family Fun Guide
Beach Clubs
Philadelphia Union Look to Build Off Two Key Wins
South Jersey Nightlife Guide
South Jersey Non-Public A & B Baseball Preview
Jersey Shore Nightlife Guide
Helping Hands
An Energized Community
South Jersey Groups 3 and 4 Baseball Playoff Preview
A Laughing Matter
Playoff Loss to Celtics Left a Bad Taste to an Otherwise Strong 76ers Season
South Jersey Group 1 and Group 2 Baseball Preview
More...